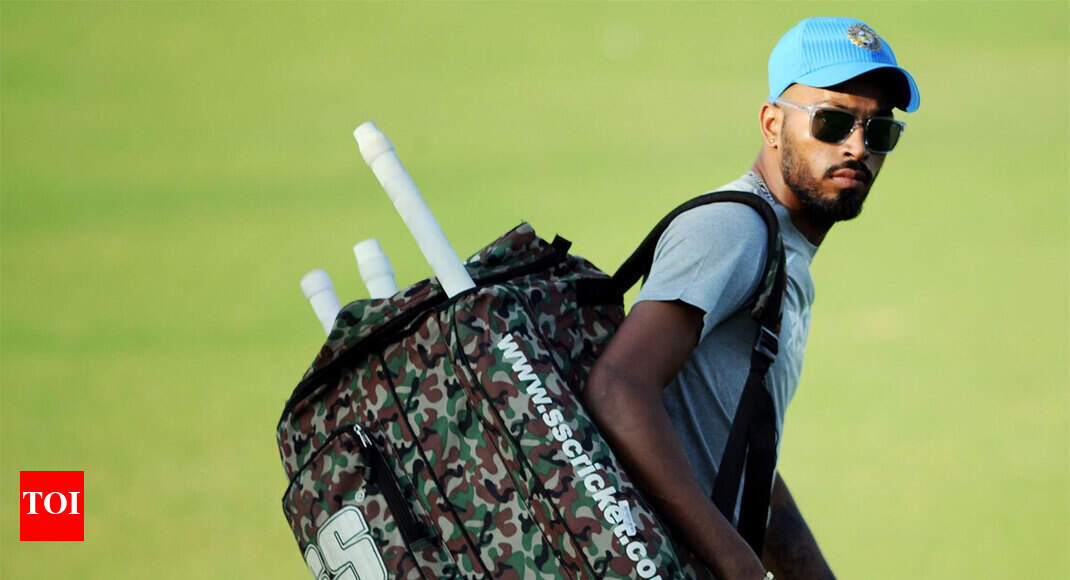 MUMBAI: After enjoying resounding success in the early part of his career, the past year has been a reality check for Hardik Pandya. Touted as India's next big all-round hope in Test cricket, he struggled to live up to the hype. However, two ordinary Test tours of South Africa and England, followed by a back injury which forced him to be carried off on a stretcher while bowling in the Asia Cup encounter against Pakistan, haven't dampened his spirit.
Pandya just celebrated his 25th birthday by gifting himself a dog he refers to as his 'new Bentley'. "He's not my dog. He's my baby! I'm in love with him. For the first time in my life, I'm in love with someone other than myself !," Pandya, who is associated with EUME, says about his latest 'family member'.
In an exclusive interview with TOI, Pandya says he is not cowed down by criticism from past greats, and is seriously focused on winning the World Cup for India next year.
Excerpts …

When can we see you back on the field?

My recovery is on track. I've been busy with my fitness sessions and physiotherapy. I don't know when (I'll return to action), but right now I'm only focusing on getting fully fit.
It must've been heartbreaking to go down injured against Pakistan?

It wasn't about Pakistan. It was disappointing to get injured like that. You can't control these things. Now I've got the time to get fitter and stronger. I always take things positively. This injury was a blessing in disguise. I got time off from cricket. After this, I won't get much time off.
Changing hairstyles, hair colours, tattoos, earrings, hats, fashionable clothes … there's a perception that Hardik Pandya is more bothered about his style, than cricket. Your comments.

In India, you enjoy freedom of speech. People can say what they want to. I like to carry myself in a stylish manner. And if you can look good, why not? But nothing can come between me and my cricket.
The World Cup obviously is the big goal for you.

My individual, and the team goal, right now is getting the World Cup back. It's my biggest goal. I want to give more than 100% to make sure that we win the World Cup. That's why right now, I'm focusing on improving my skills, fitness … mentally I want to get stronger. Because that 10-15% (extra) would be very critical. I'll give 100%, but if I can give 10-15% more to my game, then it would give me great comfort, and I'd be able to do a lot of things which I'm not able to do now.
You scored a half-century and picked 5-28 to help India win the third Test against England at Nottingham, but do you feel you could've done more in England?

There's always scope for improvement in everything that you do in life. No one is perfect in life. I still remember Sachin (Tendulkar) sir said many times that he was improving and learning cricket. Even if I would've scored 1,000 runs, there would've still be scope for scoring more runs. So, I take it that way. Obviously, I could've done more.
In the first Test in England, we were chasing 194 in the fourth innings. You were the last batsman out for 31, and we lost by 31 runs. Do you think that if you'd taken India home, people would've have spoken positively about your ability?

I don't regret it, but there's still a lot of things where one can say after something happens: 'yeh hota toh maza aata (wish this would've happened). I don't live in an imaginary world. I live in reality. The team and I didn't do it. I'm still there. Nothing has changed. And, as you said, people love to talk. Let them talk, enjoy. They like it. The good thing is that I don't read it.
But does it hurt when greats like Michael Holding and Sunil Gavaskar say that they don't consider you as a Test all-rounder …

No sir. Why would it hurt? They've played so much cricket. Let them say it. It's OK. I've heard them so much. I respect that. I'm worthy enough that they're talking about me. If I wasn't, they wouldn't have said anything about me! I take it in a positive way.
There's a theory doing the rounds that you may be rested from the Tests to keep you fresh for the World Cup. Have you had a word with the team management or the selectors about it?

Not yet (spoken to the team management or the selectors). I'm not thinking about anything. It's completely the (team) management's call. That's how I've played my cricket till now. I do whatever they (captain and the coach) and my team requires me to do. If they want me to play any particular format, I'm OK. If they want me to play all three (formats), I'm completely fine.
Post the tours of South Africa and England, do you still enjoy the same kind of faith from the team management and the selectors?

Nothing changes for me. I still have faith in myself, in the team, and they're happy with me.
Do you think that if you improve your batting, it strengthens your case as an all-rounder?

Not only my batting, I've to improve my whole game. I want to be 100% in everything. There's nothing called 50% in batting, 100% in bowling or vice versa. So, I want to improve my overall game. Even if I do or don't do well, it doesn't matter. There's always a scope for improvement, and I always look to improve.
Would you like to bowl more in Tests? You were perhaps a bit under-bowled in England …

If my team wants me to bowl more, I'll do it.
How has skipper Virat Kohli's influence been on you?

He's been a great support. He's helped me improve my game, which is a fantastic quality in him. Till now, I've grown with him. My career started under MS, then Virat took over. I've improved under both of them.
Who's the all-rounder you look to emulate?

I love Jacques Kallis. The way he managed his workload…the number of games. He played in all the formats of the game, and was still fit. My goal is to be as fit as him. Source : timesofindia