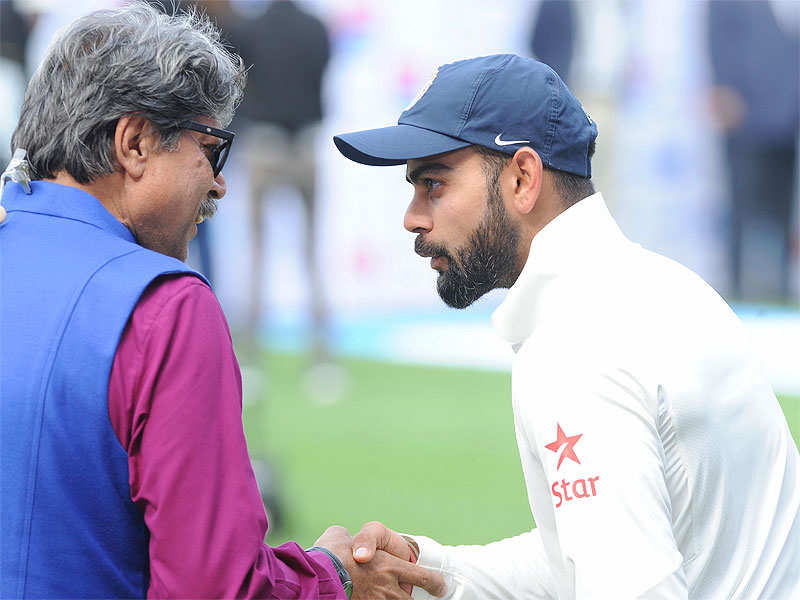 India captain Virat Kohli would benefit from a stint in the county championship before this year's Test series against England, former skipper Kapil Dev has said.
ALSO READ: Virat Kohli reminds me of Imran Khan, says Shastri
The five-match contest between the two sides begins in August and India will be hoping to improve their performance on English soil having recorded just three Test victories since 1986.
Kapil, who lifted the ODI World Cup as skipper in 1983, said Kohli is among the world's elite batsmen who must get runs everywhere.
"Practice makes a man perfect. One has to practise those conditions," Kapil told British media. "The bar which we as cricketers set for these people is that you have to be good in all conditions.
"That's what we used to say about Allan Border or Vivian Richards or Sunil Gavaskar – they were players to play any part, anywhere, any kind of conditions, they used to perform.
"Virat Kohli, the question mark is in front of him, it's there. He has to get runs where it is considered to be the toughest conditions in the world."
ALSO READ: Kohli was little over the top in South Africa but growing, says Waugh
During India's last Test series in England four years ago, Kohli averaged a disappointing 13.40, way below his career batting average of 53.40 from 66 Tests.
Kapil, who led India to a Test series victory in England in 1986, spent two seasons playing for Northamptonshire and believes a similar spell would help the 29-year-old Kohli to adapt to English pitches.

"What we're seeing, with his temperament, I think he's good enough. It all depends if he gets a good start. He has the ability," the former all-rounder added.

"If he can play a season or two in English county cricket there would be nothing wrong, because if you want to be the best player in the world you have to get runs everywhere."

Indian fast bowler Ishant Sharma (Sussex) and batsman Cheteshwar Pujara (Yorkshire) are currently signed to play on the county circuit before the tour begins.

Source : timesofindia