NEW DELHI: From crying after meeting idol Sachin Tendulkar to learning how to be more dedicated during the coronavirus lockdown, India's star sprinter Hima Das opened up about her life in a candid chat with Indian cricketer Suresh Raina on Sunday.
The two Indian sports stars had a Live Instagram session on Sunday afternoon.
When Raina asked about her role model, Hima revealed that it is none other than cricket legend Sachin Tendulkar. "My role model is Sachin Tendulkar, I still remember talking to him when he invited me to his home. When I saw him, I ended up crying and sir consoled me. It was the best moment for me. Meeting your role model is a big moment for everyone and no one can forget that," she said.
Raina also added that 'Sachin paaji' is very down to earth and that he himself has learnt a lot from him.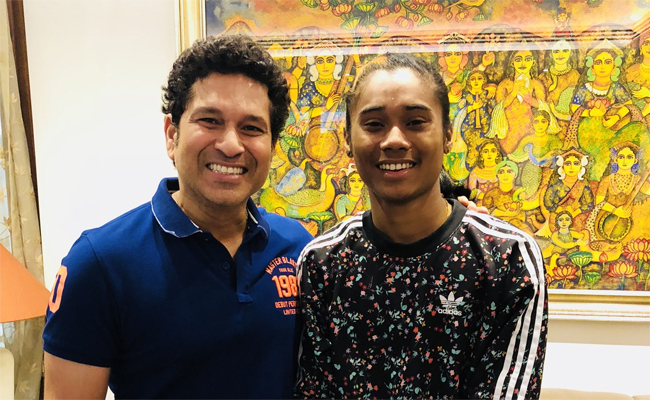 Hima Das with her idol Sachin Tendulkar (Photo – Hima's Twitter handle)

Hima said that she has learnt dedication, better eating habits and has gained the knowledge that one can survive without venturing out unnecessarily.
"I have learnt a few things during the lockdown: 1. Dedication 2. We used to go to eat, which is not healthy 3. We can stay at home and live life without going out unnecessarily," Hima said.
On the fitness front, especially during this tough time, Hima told Raina that she is doing yoga and indoor workout.
"Since we are not allowed to go to the ground, I am doing workouts in the room. We have a 30-40 metre long lawn, and I am utilising it for exercise. Started doing yoga and mind exercise. Eating habits have also changed. I have stopped eating meat and am consuming more fruits and water," the 20-year-old Asamese said.
On becoming an inspiration for the youth in the country, Hima said that athletics has become more popular after the 2018 Asian Games in Jakarta. India won 20 medals in athletics in Jakarta, including 8 gold. Hima herself returned with two gold and one silver medal from her first Asiad.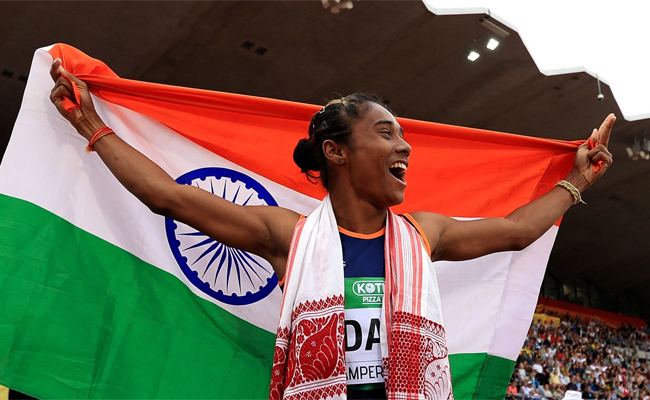 File Pic: Hima Das after winning gold at IAAF World U20 Championships in Finland. (Getty Images)

Raina recalled the 2018 Junior World Championship gold Hima won, making her a household name in India, and said that even today he watched the video on Youtube and is inspired by it.
Remembering the historic event, Hima said with a smile: "I was preparing for the Asian Games at that time, and went to Prague for training. AFI asked me to participate in the World U-20 Championships and I won gold. I got to know about its importance later."
The duo also saluted and praised the frontline workers fighting the Covid-19 pandemic.
Hima shared how Assam police helped her mother when she was not well during the lockdown and took her to hospital and back. To this Raina also added that Delhi police helped him a lot when they were blessed with a child during the lockdown.
Hima also revealed that her favourite IPL team is Chennai Super Kings. "I am not saying it because I am chatting with you. Chennai Super Kings is always my favourite team in the IPL because of Dhoni bhaiya and also due to you," Hima told Raina while praising the left-handed batsman's exploits for the CSK.
When Raina asked what she would do once the lockdown was lifted, Hima replied, "I will hit the ground as soon as lockdown ends."
Hima then added that one of the lessons from the coronavirus chaos is that one should keep maintaining social distancing in the future too.
Source : timesofindia