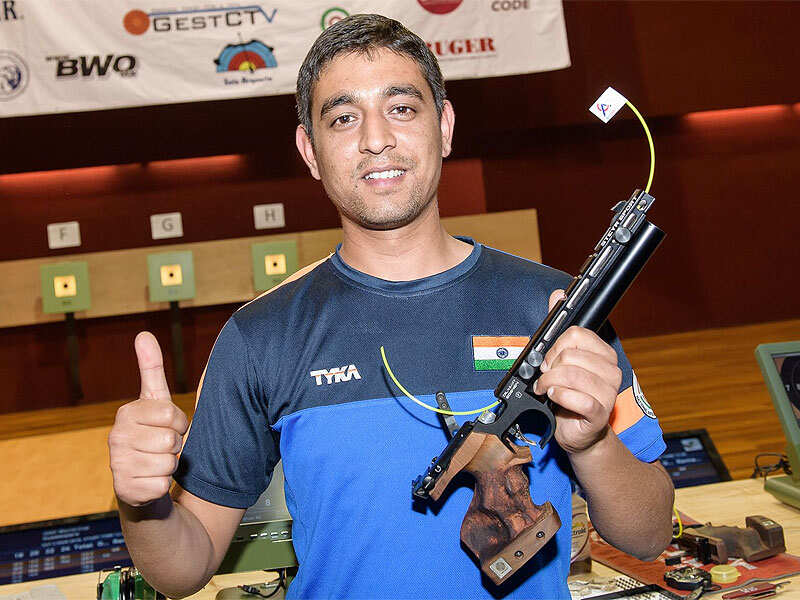 Shooting in his first ISSF World Cup, young Shahzar Rizvi showed nerves of steel to clinch gold with a world record score in the men's 10m air pistol in Guadalajara, Mexico, on Saturday.
Rizvi, a sergeant with the Indian Air Force, pipped Rio Olympics gold medallist Christian Reitz of Germany and teammate Rai by scoring 242.3. He broke Japanese legend Tomoyuki Matsuda's record of 241.8, created in October last year.
Reitz finished second with a score of 239.7, while Rai (219) bagged the bronze.
Mitharval, yet another senior World Cup debutant, missed out on a medal, finishing fourth with a score of 198.4.
Rizvi had won the event with a new record at the national championships at Thiruvananthapuram last December. He said he wanted to prove a point when he took guard on Saturday.
I was angry, wanted to prove a point: Rizvi
"I have been maintaining second position in the national ranking and was almost sure of selection for the Commonwealth Games (coming up in April). But I was shocked when the selectors didn't pick me for the Games. I was angry and wanted to prove a point and show everyone how good I can be," Rizvi told TOI.
The National Rifle Association of India (NRAI) had preferred Rai over Rizvi for the CWG, considering the former's experience. Since only two shooters can be sent in one event, the national body used their right to select the squad without considering the national ranking. The other shooter for CWG in this category is Mitharval, who is number one in India.
Rizvi, from Meerut, hails from a family of shooters, with three of his cousins being shotgun shooters. A sergeant with Indian Air Force, Rizvi trains under Ronak Pandit and is supported by Olympic Gold Quest.
This is probably the first time that three Indians had entered the medal round of a World Cup. With a score of 579, Rizvi was the top-scorer among Indians and second overall in the qualifiers, while Rai was third with a score of 578.
In the final, the Indians got off to fine start. After 10 shots, Rizvi (99.4 points) was second behind Brazil's Julio Almeida (101.8), while Rai and Mitharval kept themselves in the top five. While Rizvi dis played confidence, Rai was a little inconsistent.
Mehuli, 17, who also shot in her first-ever senior World Cup, secured bronze while creating a new juniors' qualification world record. Anjum and Apurvi, however, missed out on a podium finish. Mehuli was the most consistent among the Indians. She showed courage while competing with three Chinese shooters and two senior Indian shooters along with the eventual gold winner, Laura Georgeta Coman (251.5) of Romania.
Mehuli secured the third spot with a final score of 228.4 while China's Hong Xu (251) bagged silver.
Apurvi, who has been struggling with her form since the Rio Games, made a commend able comeback to the international arena to finish seventh place with a score of 144.1 Moudgil finished fourth with 208.6 points.
Source : timesofindia