NEW DELHI: 'Chin up guys, you are the best', coach Paras Mhambrey said while hugging members of a dejected Indian under-19 team, after the Priyam Garg-led side lost the Under-19 World Cup summit clash recently to Bangladesh in Potchefstroom.
India entered the final after beating top sides like Australia, South Africa and New Zealand but faltered at the final hurdle and had to be content with the runners-up tag.
"I am extremely proud of the way the guys played throughout the tournament. We were consistent in our performances and defeated big teams as well and then entered the final. Be it quarterfinal or semi-final, the two big games, the display from the boys was just fabulous. We have taken a lot of positives from the tournament. The final (against Bangladesh) didn't go our way," Mhambrey told Timesofindia.com in an exclusive interview.
Bangladesh produced a stunning fightback against India to win the Under-19 World Cup title for the first time. After restricting India to 177 , Bangladesh were tottering at 106 for 6, before their captain Akbar Ali got them back on track.
A short rainbreak meant a revised target of 170 from 46 overs, with Rakibul Hasan scoring the winning runs to secure a title win.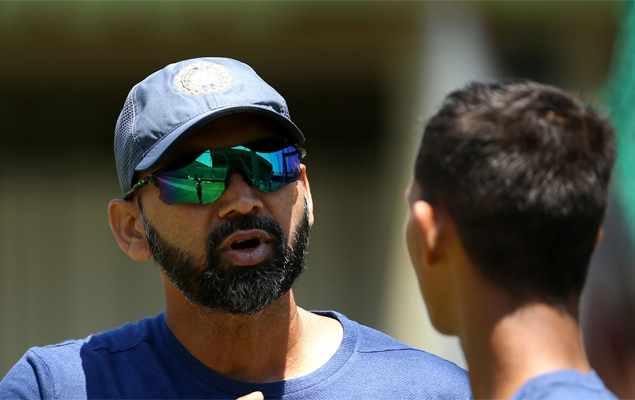 India coach Paras Mhambrey (Getty Images)

"Bangladesh are no more minnows now. They are a good side now. They have always been competitive. When you have reached the final, you must be a big and a consistent team. You must have done something to enter the final. Bangladesh were consistent and proved they were a good side. For us, it was a bad game or you can say a bad day at the office. We can take a lot of positives from here. These kids will go a long way. The skills they have displayed, it was incredible. These kids have the capability to go a long way and shine in the next level of cricket they will play," Mhambrey said.
Mhambrey, who represented India in 2 Tests and 3 ODIs as a medium pacer, highlighted the toss as the deciding factor in the final.
"Honestly, it wasn't an easy wicket to bat first on. Toss was important and I think it played a deciding factor. The whole day it rained and the covers were on. There was moisture on the wicket. That's why seamers played a big role. It was a difficult wicket to bat on. Despite not having much runs on the board, boys did their job really well. We still had an opportunity to dig it out in the first powerplay. Yashasvi batted really well. We knew he will deliver in the final and he did. He is a big match player. We had a good partnership too but the rest of the batsmen failed to capitalise. We were 25 to 30 runs short. I am sure 220 plus target, on that surface, would have been good for us," Mhambrey said.
Ravi Bishnoi – the googly expert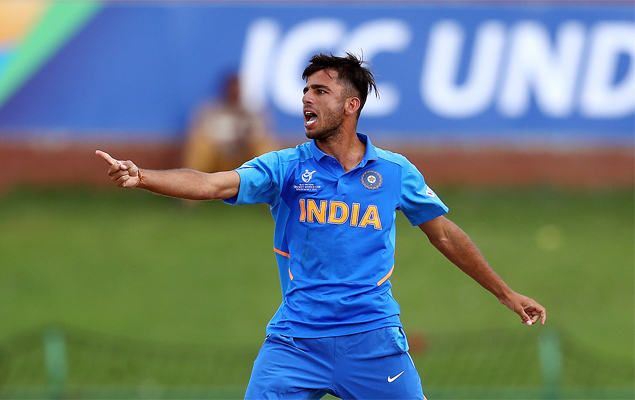 Ravi Bishnoi (ANI Photo)

For India, leg spinner Ravi Bishnoi was the most successful bowler with figures of 4/30 while Sushant Mishra had 2/25.
With his googlies, Bishnoi reduced Bangladesh to 102/6 at one stage but that wasn't enough to stop Bangladesh in a low-scoring final.
"He (Ravi Bishnoi) performed consistently for the team. He was amazing. He wasn't just consistent, he put India back in the game on many occasions. The credit must be given to him for performing under the challenging situations. Ravi is an asset a captain can have in a team. He is a very handy bowler or I would say he is an all situation bowler. Bring him into the attack in any situation, he will deliver. His journey wasn't just the World Cup, he will go a long way," Mhambrey said while praising the youngster.
'Just a bad day at the office'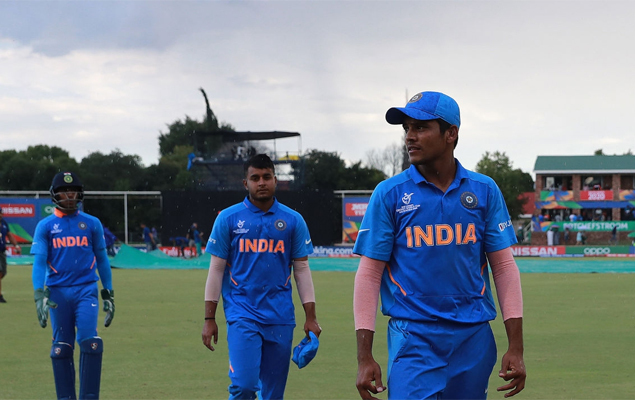 (Getty Images)

Mhambrey welcomed a dejected Under-19 team with a smile. He wanted to boost their morale after the defeat.
"As a coach, you need to appreciate and see the positives of the team. These are kids and it's a time when, as a coach, I should shape them for their future. When the first session ended (India innings), I told the boys 'forget what has happened, now look ahead. Focus on the second session'. I wanted them to give their hundred percent and best. I am proud they did that in the right way. After the match, I encouraged and said 'chin up guys, you are the best. You have given your best.' For me, the results are not something you can control. I told the boys, just leave whatever happened on the field and move ahead. That was just a bad day. Be proud of what you have done and don't judge yourself. This is what I said after the match to the boys," Mhambrey said.
"You can have these kinds of days in your life. You can't judge yourself by a bad day. They entered the final because they were the best. One team had to win and the other had to lose. So learn, accept and move on. This is all we spoke about," Mhambrey added.
Road ahead for the Indian colts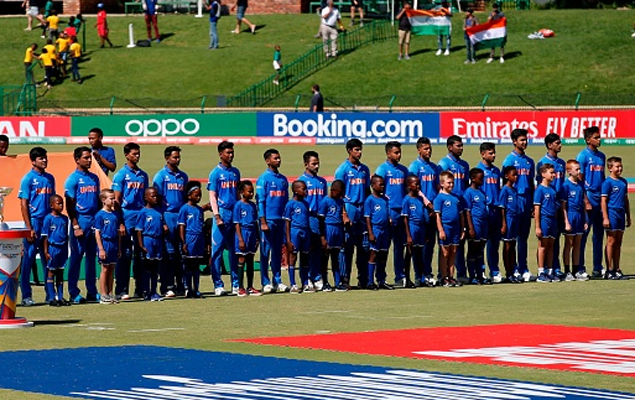 Indian team during a ICC U-19 World Cup match. (Getty Images)

India were chasing their fifth ICC U-19 World Cup title this time under the leadership of Priyam Garg. Mohammad Kaif (2010), Virat Kohli (2008), Unmukt Chand (2012) and Prithvi Shaw (2018) guided their teams to their respective title wins previously.
Many cricketers from all the four World Cup-winning teams went on to represent the Indian senior team, including the likes of Yuvraj Singh, Mohammad Kaif, Virat Kohli, Manish Pandey, Ravindra Jadeja, Venugopal Roy, Shubman Gill and Prithvi Shaw.
On being asked who the players are in the current team, who have the ability to play for the senior team some day , coach Mhambrey said: "Honestly, it's very unfair to say one person is a star. I think when you represent the country at this level, everyone has potential. These guys have the potential and have the skills. I think the challenge for them is obviously first-class cricket. They are the best at this age group level. I think the next step for them is first-class level. They should play more and more domestic games, get better and when the opportunity comes, grab it with both hands".
"Everyone from this lot will not represent the country, but there are a couple of guys who have the potential to go to that level. I am sure you will see some of the names from this team represent the senior team in a couple of years. If you talk about potential, every single player in the team has the potential to go to the highest level," Mhambrey told TimesofIndia.com.
"I would say he (Priyam Garg) is a fabulous captain. He is mature and he showed that maturity throughout the tournament. The way he has handled the entire team is commendable. He knows how to use a bowler, fielder or batsman in a given situation. The way he handles his resources is commendable. He is calm and that's the biggest quality of being a good captain," Mhambrey said.
The ugly on-field fight after the final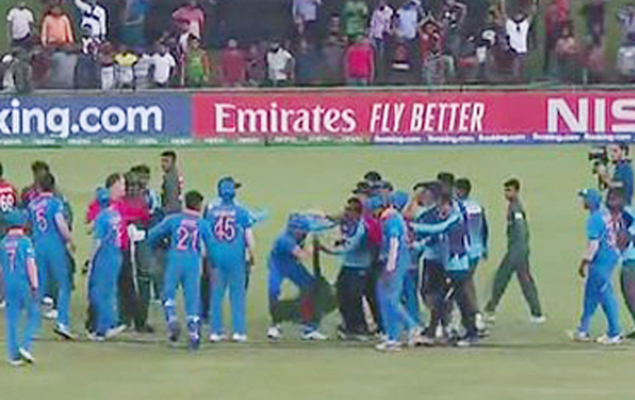 (Video grab)

After Bangladesh won the title, players from both teams clashed on the field and almost came to blows. The Bangladesh players were called overtly aggressive in their post match celebrations.
As a result, the International Cricket Council (ICC) sanctioned five players – Towhid Hridoy, Shamim Hossain and Rakibul Hasan from Bangladesh and Akash Singh and Ravi Bishnoi of India.
"That is something we should not focus on now. I just want to say, they are kids, they will learn with time. There are a lot of emotions at this stage. Who likes to be on the losing side? No one. So, those were the emotions. It was a big stage," Mhambrey said.
"Whatever has happened, it wasn't good. It wasn't good behaviour at all. But they are kids, they will learn this part too. It was a big learning and lesson for them. I am sure and confident that you will never get to hear such things from this lot again," Mhambrey signed off.
Source : timesofindia