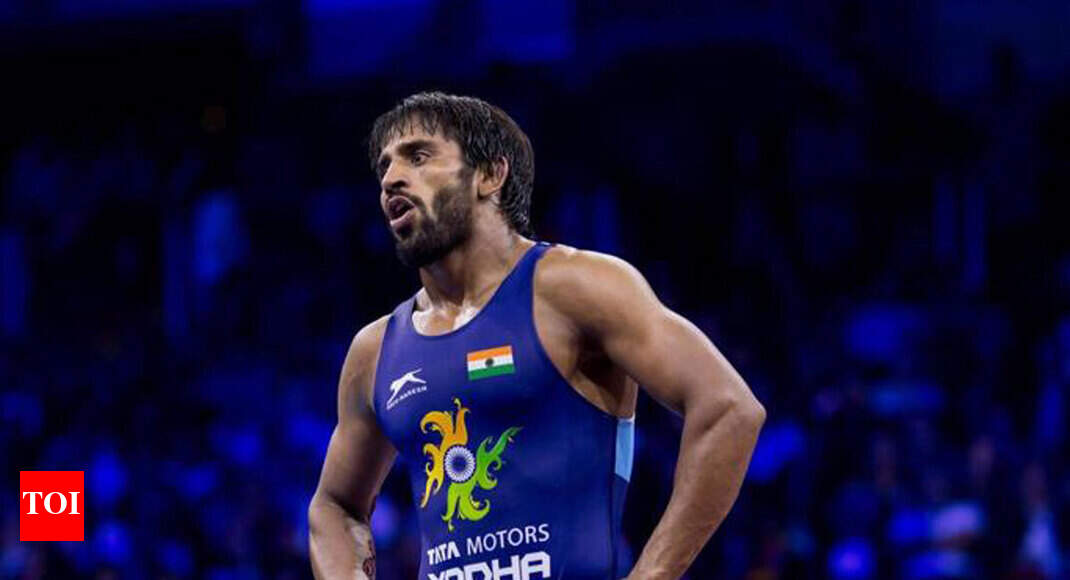 NEW DELHI: Asian Games and Commonwealth Games champion Bajrang Punia has managed to change the colour of his World Championships medal but a gold remained elusive for the 24-year-old wrestler as he lost his 65kg Freestyle final to Takuto Otoguro of Japan in Budapest, Hungary, on Monday.
Punia went down 9-16 to the Japanese teenager, who, at 19, is now his country's youngest world champion. Legendary Yuji Takada, who won gold at 1976 Montreal Olympic Games, had become youngest world champion from Japan at the age of 20 in 1974.
Punia had won a bronze medal in 2013 edition of the tournament while competing in the 60kg category and the silver on Monday made him the only Indian wrestler to win two medals at the World Championships.
India's lone Worlds gold medal, thus, remains in the name of Sushil Kumar, who bagged it in Moscow back in 2010.
In the final, Punia was down 0-5 in no time after the start of the bout but did well to come back trailing by just a point, 6-7, at the end of first period.
But the Japanese kept his nerve and came up with a couple of telling moves while continuing to attack Punia's legs in the second period and extended his lead to win comfortably in the end.
In the semis on Sunday, Punia had staved off a late threat from Alejandro Valdes Tobier of Cuba 4-3 to enter the final at the Papp László Sportaréna.
Earlier, in a thrilling quarter-final, Punia held upper hand until the last minute leading 4-1. But the Indian conceded three crucial points to his Mongolian opponent, Tulga Tumur Ochir, before wrapping up the match with a score of 5-3.
A prodigy groomed by Olympic medallist Yogeshwar Dutt, Punia has had his best year in world wrestling, winning CWG gold in Gold Coast, Australia, and the Asiad gold in Jakarta, Indonesia, before this silver at the World Championships.
He has also hired the professional coaching services of Georgia's Shako Bentinidis, who was in Punia's corner in Budapest, since February this year.
Punia is only the fourth Indian ever to make it to the World Championships' gold-medal match.
Apart from Sushil, Amit Dahiya (2013) and Bishambar Singh (1967) are the other Indians to make it to the World Championships' final in men's freestyle.
Udey Chand (bronze, 1961), Ramesh Kumar (bronze, 2009) and Narsingh Yadav (bronze, 2015) are the other men's freestyle wrestlers to win a medal at the World Championships.
Among female grapplers, only Babita Phogat (bronze, 2012), Geeta Phogat (bronze, 2012) and Alka Tomar (bronze, 2006) are the medal winners at Worlds.
Meanwhile on Monday, in the men's freestyle 70kg category, Praveen Rana won his first bout against Jarvissadam Blesam Tarkong by technical superiority but suffered an identical defeat against Uzbekistan's Ikhtiyor Navruzov in the pre-quarterfinals.
In the 97kg, Mausam Khatri was knocked out by Venezuela's Jose Daniel Diaz Robertti 2-12 in the qualification round.
In the women's event, Sarita won her bouts in the 59kg against Korea's Bobae Kim (8-1) and Ukraine's Sofiia Bodnar (4-0) but lost the quarter-final by technical superiority to Shoovdor Baatarjavrjav.
However, Seema could not win even one bout in 55kg, losing her pre-quarterfinal to Mongolia's Davaachimeg Erkhembayar by technical superiority.
(With PTI Inputs)
Source : timesofindia