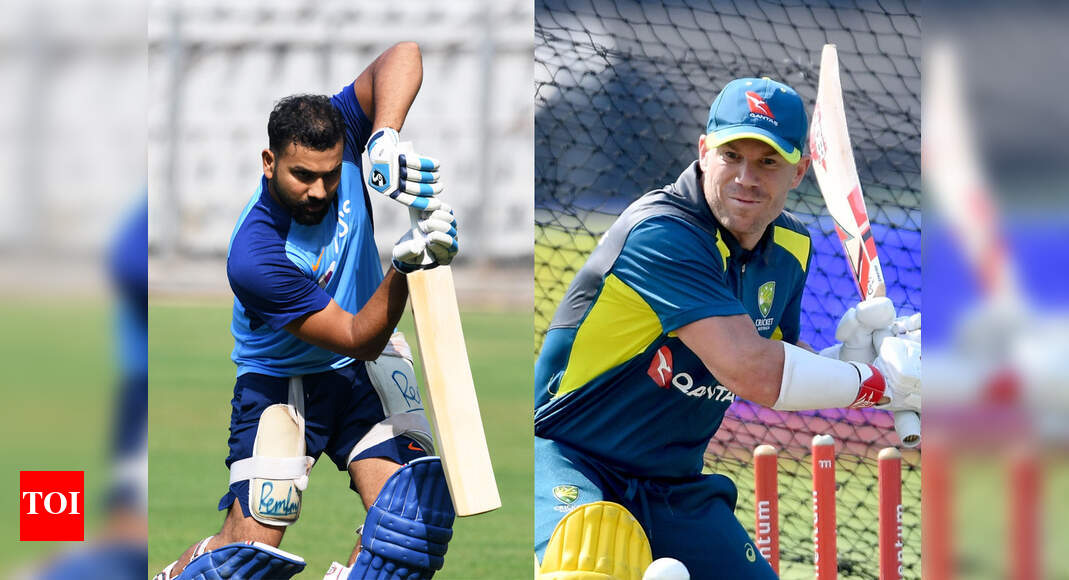 NEW DELHI: Historically, world cricket had no bilateral rivalry billed at par with the Ashes or an India-Pakistan series. Now that the Covid-19 pandemic has turned all equations in the world upside down, a series between India and Australia is touted as the potential game-changer for the health of cricket in the post-pandemic world. The brand value of this rivalry – between two teams governed by two of the strongest boards – could gain greater ground once the dust settles.
Rohit Sharma and David Warner are now talking up the rivalry and are hoping that India's scheduled tour in Australian summer goes ahead to get things rolling in international cricket. Going by their chat on Instagram on Friday evening, they are keen on having the full bilateral series as the preceding ICC T20 World Cup in Oct-Nov looks 'unrealistic' in the prevailing circumstances.
"India-Australia is a great series to resume cricket. Hope both boards work out something. The IPL should happen later but I don't know when," Rohit said after Warner's proclamation: "The ICC World Cup will not go ahead here by the looks of it. It will be difficult to get everyone (16 teams) together." Rohit even suggested that two boards could think about the Jan-Feb window for the series if it gets tight to start the series on time in December.
While the series is seen as a money-spinner for the two powerhouses of world cricket to make up for the financial loss due to the pandemic, it's about settling scores for the two openers. India, on one hand, would like to assert that their triumphant tour last time wasn't a fluke. For the likes of Warner, who missed the last series due to Sandpapergate, it's about helping Australia to regain supremacy at home.
"Watching that series was challenging. I felt helpless as I couldn't help anyone of my mates. India had the best attack to left-handers. I am looking forward to the battle this time," Warner replied to Rohit when he brought up the upcoming series.
He then brought up the hostility factor that gets the adrenaline going. "Travelling to India is the toughest challenge for us. The crowd is against us. All the odds are against us. Outside England, it makes us want to perform harder. I am sure it's the same for you guys (Indian team) when you come here," Warner said.
"Oh! Yes," Rohit replied while elaborating why an Australian tour is so important for Indian cricketers. "Nothing comes easy once we land in Australia. Going out shopping, eating out and travelling around, you are constantly reminded of a tough contest. It eggs you on," Rohit said.
The cricketers may be bonding because of sharing so much more time on the field thanks to the IPL, but both have their eyes set on that Border-Gavaskar trophy. For now, like anybody else around the world, they have no choice but to wait how things pan out.
Source : timesofindia