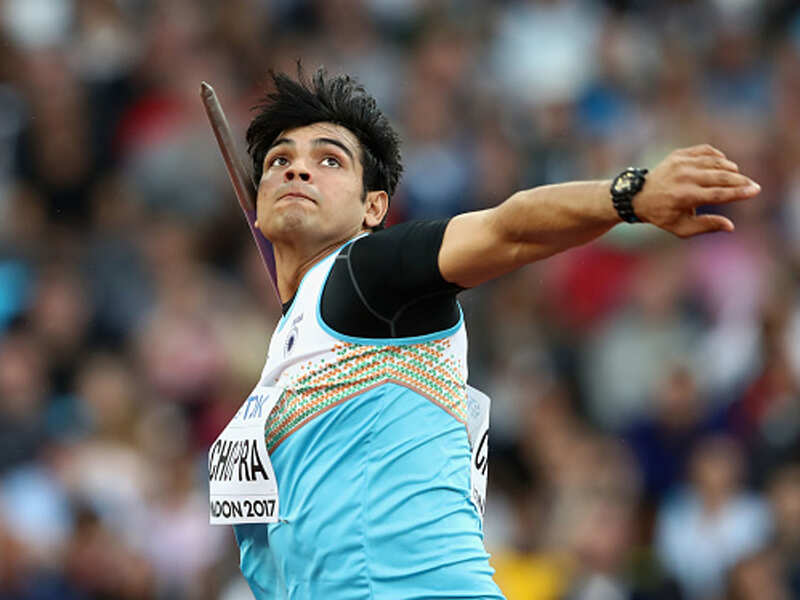 NEW DELHI: The Commonwealth Games may be taking place early in the athletics season but India's top javelin thrower Neeraj Chopra says he can hit top gear and better his personal best to win a medal at Gold Coast next month.
The 20-year-old Chopra, whose personal best of 86.48m in 2016 remains the junior world record, said his off-season three-month stint in Offenburg, Germany under prominent coach Werner Daniels has been beneficial to him.
He is hoping that he will better his personal best this year after failing to do so last season.
"It was more about strength training, strength building in Offenburg and I feel I have achieved with what I have set out before the German stint. I have improved in my core strength and I feel I am stronger than before," he said.
The Haryana thrower said that touching his personal best should fetch him a medal in the April 4-15 CWG as well as the Asian Games in August-September.
"After I set the junior world record in 2016, I could not improve upon my personal best in 2017. My target this year to consistently throw above 85m mark and do better than my personal best. I feel I can do that at Gold Coast and win a medal for my country. That will be my first medal in a big multi-sporting event," he said.
"This year is an important one for me. There are these CWG and Asian Games and then I will take part in some Diamond League series and other international events also," said Chopra who will be one of the top stars in the Federation Cup Senior Championships beginning in Patiala on Monday.
Last year, Chopra had 85.63m effort in Patiala for his best of the season. He won the Asian Championships gold in Bhubaneswar. He also took part in three Diamond League series events, finishing fifth in one. But he disappointed in the London World Championships, failing to make it to the final round after a best effort of 82.26m.
Chopra was in Germany till the first week of last month and he bagged silver at a competition in Offenberg where he hit 82.80m to finish second behind world champion Johannes Vetter of Germany.
"Vetter also trains at the same facility at Offenburg though our training timings are different. I met him on a few occasions but did not interact much," he said.
He is now with the legendary German Uwe Hohn, a former world record holder and the only javelin thrower to cross 100m mark, at the NIS Patiala.
"I am with Hohn for around 15 days or so and so it is initial days with him. He has been watching me during training but not much more than that. I have been training with the way I had done in Germany.
"Let's see how we work from now on. I want to do well in the Federation Cup and win a medal in the CWG. The competition among the trainees at the NIS is getting better with more people touching 80m, it's good for all of us."
Last year, Chopra became the first Indian track and field athlete to sign a deal with American sports beverage manufacturer Gatorade and he is happy with it.
"Earlier, I used to drink only water during training and competition but now Gatorade is giving me energy. A lot of top class athletes like Usain Bolt used to drink Gatorade. I took these Gatorade pouches in Germany and it helped me a lot," he said.
On a lighter note, he said the stint in Germany improved his cooking skills.
"I had to cook my own food there. I took some cooking material with me from India. I had to make roti (bread), cook dal (pulses) chawal (rice) and boiled vegetables. It was difficult for me but I have to do that and I got better in that."
Source : timesofindia