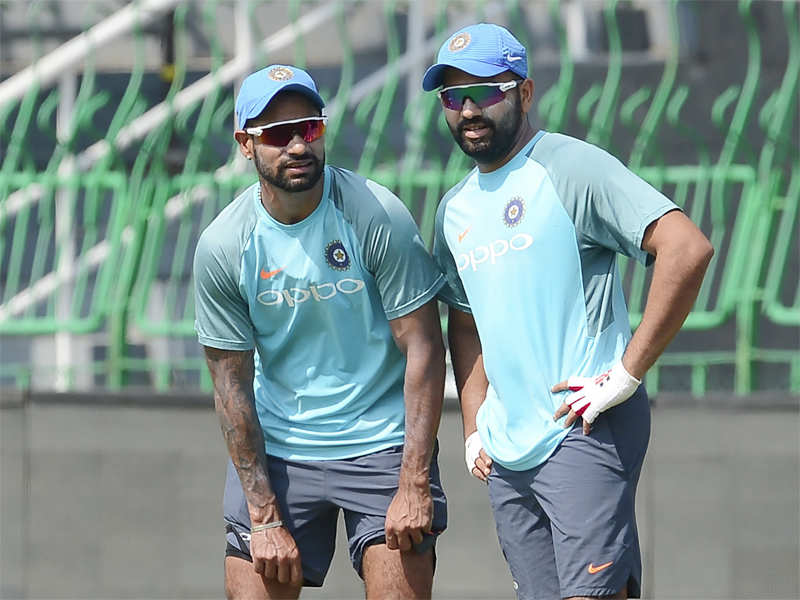 COLOMBO: India are seen as overwhelming favourites for the tri-nation Nidahas Trophy beginning on Tuesday, but captain Rohit Sharma played down the perception, saying anything can happen in the fickle T20 format.
ALSO READ: Twenty years later, a rewind to the original Nidahas Trophy



"Whether we are favourites or not, that is not something I think about," said Rohit ahead of India's opener against Sri Lanka.
ALSO READ: Five Indians with plenty to prove in Nidahas Trophy
"T20 is such a format where any team can win on that particular day. The game can change in a span of one over, it can slip away … On a given day, any team can beat anyone. How do I explain it? It's like the English Premier League. Some teams may be stronger, but anyone can win on a given day."
Rohit is captaining the team in the absence of Virat Kohli, who has been rested alongside other key players such as Mahendra Singh Dhoni, Hardik Pandya, Bhuvneshwar Kumar and Jasprit Bumrah.
ALSO READ: India must play Rishabh Pant in Sri Lanka, says Manjrekar
Asked about leading a second-string team again, Rohit said: "I don't look at it that way that I don't have the full team. I'm very fortunate to get the opportunity to lead the team.
ALSO READ: India's young turks ready for Tri-Nation test under Rohit
"Given the schedule nowadays and the amount of cricket we play, it's important to look after players and give them enough rest when needed. Whenever I've been asked to put on the captaincy cap, it's been an honour."
India have played two full series against Sri Lanka in a six-month span with fans and experts complaining of an overkill of cricket between the two teams. Bangladesh are the third team in the tournament.
However, Rohit insisted the tournament is crucial to the team's progress.
"It's always important to know your bench strength. We're lucky that we have got quality players who are waiting to do well. They have been consistently performing in A tours, Ranji Trophy, IPL cricket.. It's the right time to blood them," he said.
"We want to see how they play here and not rush them in ICC tournaments directly, we don't want them to be taken by surprise. We want to see where they stand as individuals."
Meanwhile, Sri Lanka coach Chandika Hathurasinghe said even a second-string India will be tough to beat.

"If you go by the ratings, India is the No. 1 team, so they always start ahead of the other teams," said Hathurasinghe.

"Whoever comes for India is a very strong team. We have to start well because we haven't been doing well at home. With Bangladesh, because of the last series, we probably have a little edge over them mentally. But still India is the No. 1 team."

He was a tad disappointed that India's was not fielding a full strength side for the tournament.

"We can't control their selection. We are playing the India team so whoever they play on that day we prepare for them. If the stars are there it's good for the spectators, but unfortunately at this stage they've come with a different team," he said.
Source : timesofindia