LONDON: A crisp spell of overnight rain and there's suddenly a nip in the London air. The occasional cloud here and there and a chilly breeze across Lord's, all make you feel it's an English summer after all.
ALSO READ: Winning the only thing that matters, says Virat Kohli
Till Tuesday, it was harsh and the after-effects of the searing heatwave has had its impact on the way the game is being played on this tour. The Lord's pitch has a hard look to it and even though there's a grass cover, Indian captain Virat Kohli feels it could be a little dry underneath.
Suddenly, it introduces talk of the second spinner in the mix and both teams are not shutting out the option just yet. While England have both Adil Rashid and Moeen Ali in their 12, Kohli admits the second spinner "is a tempting option". In fact, the Indian captain himself went straight into the net where Kuldeep Yadav and Ravindra Jadeja were bowling, giving those watching an idea of what could come. But including any one of the two in the XI would mean leaving Hardik Pandya out. Pandya is a decent batsman — definitely better than either Jadeja or Kuldeep — and Kohli would think twice before shortening his batting line-up which has struggled for runs.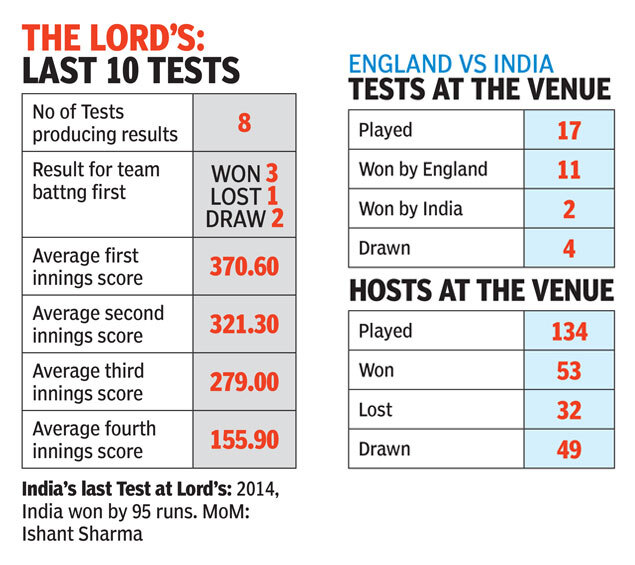 ALSO READ: England bank on Root force against India
For England though, it's likely to be a case of either Moeen or Rashid, because it would be difficult to change the bowling attack of James Anderson, Stuart Broad and Sam Curran. Chris Woakes, who has come in place of Ben Stokes –facing a court hearing and likely to be out for third Test too — will also play. "Woakes has no fitness issues, otherwise he wouldn't have been picked," skipper Joe Root said, after being hit by a delivery from the medium-pacer during the nets.
England will also give Surrey boy Ollie Pope, who will bat at No. 4, his first Test cap. "Though he bats at No. 6 for his county side, it won't be a problem for Pope to adjust and play at No. 4," Root offered, showing confidence in the new boy.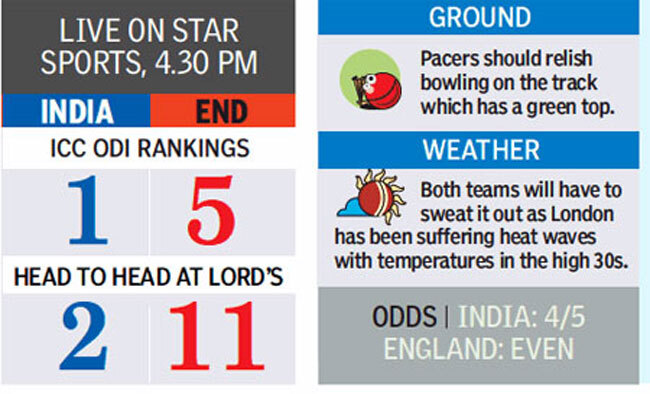 The visitors, on the other hand, prefer to create an element of mystery around their first XI and they maintained that here as well. But if Wednesday's practice session was any indication, Cheteshwar Pujara may just be in contention for a comeback after sitting out the first Test.
While Shikhar Dhawan didn't bat during practice, Pujara, KL Rahul and Kohli headed straight into the nets. Even though Pujara hasn't been in spectacular form of late, his defensive technique can complement stroke players like Vijay, Rahul and Kohli.
Kohli, too, stressed on the need for the same technique in order to deal with the conditions. "There must be a clear plan on how to face the first 20-30 balls, and more often than not that plan does not involve aggression. There we need some composure."

The collective form of the unit that Kohli mentioned might be some cause for worry, but the skipper jumped in defence of his batsmen. As was seen in the defeat in the opening Edgbaston Test, they have found different ways of getting out but Kohli insisted it was "not as bad as it looks from outside".

"There will be errors committed, especially when you are playing England, where the conditions are anyway difficult. We only need to bring down the margin of error and beyond that we don't need to worry too much," Kohli said.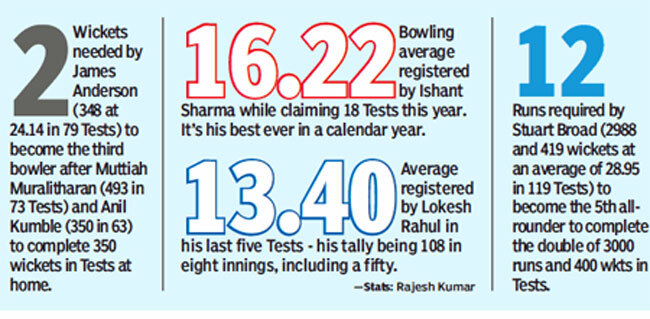 Source : timesofindia