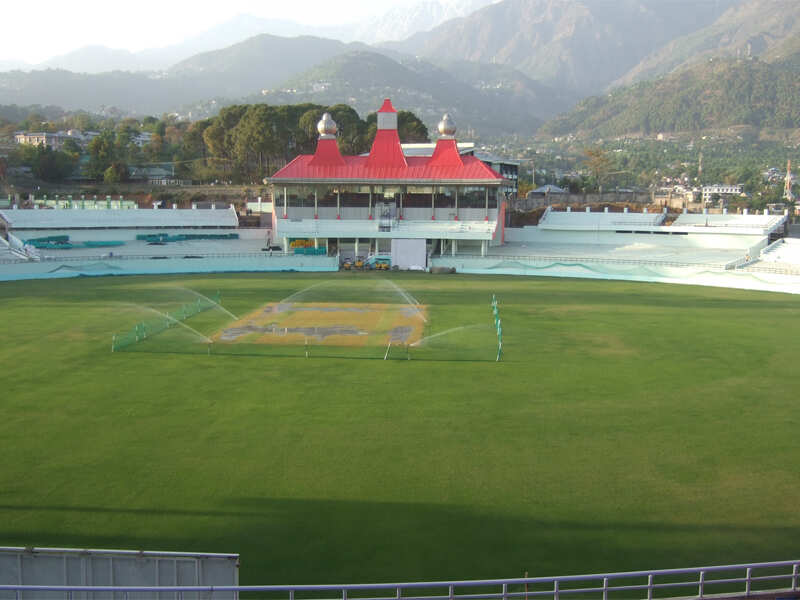 DHARAMSHALA: As he takes you around for a 'guided tour' of the highly state-of-the-art 'Centre of Excellence' at the postcard-perfect Himachal Pradesh Cricket Association (HPCA) stadium here, Vikram Rathour stares at the outdoor nets facility here, which is currently soaked in drizzling rain, and stuns you with what he plans to do to counter nature.
"It rains a lot in Dharamsala from July to September, so you can't practice much on the ground. We've an indoor nets facility, but too much of indoor practice isn't ideal for professional cricketers. We need to make sure that our CoE is functional round the year. We've thought of a making a retractable roof, on our outdoor nets facility, which should be ready in around six months. It could be the first of its kind in India, and I'm sure it will be copied by the other states, because you do need a place to practice when it's raining. Outdoor practice is always better than indoors," the former India opener tells TOI.
The 48-year-old seems to have made an immediate impact to the fortunes of Himachal cricket since he was appointed as the director of cricket operations in HPCA last August. "We always had good infrastructure. When this stadium was created, Anurag (Thakur) was in charge (of HPCA). Unfortunately, he got busy in politics. They didn't have anybody to look after it. So, it wasn't being utilized. I joined in August last year. Since then, we've developed it, and it has come up really well," he says.
Still looking in as much prime shape as he did during his playing days, Rathour tells you about his grand plans for the place. "A company is developing an application for us which will cover all aspects of the game-matches/tournaments/scoring/stats and the injury management of our registered players.
Elaborating on the app, he says: "Geographically, Himachal is a tough place to play cricket. In the metros, you can take use any public transport to get to a cricket facility. Here, unless you have your own public vehicle, you can't do that, because there's no public transport here. So, it's extremely difficult- despite the fact that we've three-four really good grounds/academies in Bilaspur, Una, Dharamshala and Shimla, to travel in Himachal.
"So, I suggested to Anurag that we need to take cricket to smaller places. He suggested that 70 sub-centres be set up in Himachal. We're starting with school grounds, basically. So, any school which is keen to have their own team and cam give their space, we'll provide them with two cement wickets, which will be 'netted,' coach and balls and all the other equipment. We're aiming 30-40 kids per centre, out of which 2-3 will be brought to a bigger centre for a camps and matches."
Rathour feels that his state's CoE is the best of its kind in India at the moment. "We've 16 outdoor wickets, two cement wickets, and five wickets in indoor practice. This is the best cricketing facility of its kind in the country – and I'm saying this after seeing all the other centers," he claims. Looking at the multiple facilities on offer, which look at par with the best in the world, you wouldn't disagree.
Elaborating on what the CoE can boast about, the former India selector says: "Our gym has a functional Jacuzzi and a steam and sauna room. Not many state associations have this kind of a facility. In India, a physio is given a shabby room in a corner, but for CoE, physiotherapy has a major role to play. You will have injuries happening to the players. They need to have a good place to come and stay, and we provided them that here. We've the capacity for eight players who can come for their rehab here. Then, this physiotherapy room was created. We've three massage tables, and a physio who's based here. Earlier, when the players would get injured, they would have nowhere to go. Now, anyone who's injured, comes to this place for rehab. "
The CoE also helps bowlers rectify their actions to prevent injuries. "We've started another new thing. We've a bowling coach based out of here, who corrects the action of the injured bowlers, in case he feels that the injury is action-related. This is important because while the physio can make a bowler fit again, if his action is faulty, he'll get injured again, and next time, the injury will be worse," says Rathour. "We're putting up movable cameras on rooftop to rectify action-related problems," he adds.
Inside the massive gymnasium, you notice the results of those who've topped the fitness tests. "It motivates the players to keep improving and outdo each other in fitness," he says. The CoE also boasts of a library and a video room where you can watch the feats of some legendary cricketers. "I believe that you can learnt a lot by reading and watching greats. This way, we can teach about the history of the game," says Rathour.
He now wants cricketers beyond CoE to utilize the excellent facilities on offer. "We're in talks for exchange programmes with other states, like I'm planning one with Andhra. Bengal and Punjab are keen too. We can have a tri-series for under-16 cricketers here. Our bowlers/batters and coaches can go to Andhra, and their bowlers can come here, which will give our and their bowlers an idea of conditions in both the states. We can do thy same with the batters as well. This is something which hasn't been tried before between states, but it's an excellent idea. I'm also open to international teams using this facility to hold camps for their teams," he says.
Managing such a high-maintenance project has become difficult after Thakur, who pioneered cricket development in Himachal Pradesh, had to leave the association due to the Lodha reforms. "There's so much of uncertainty now. Things aren't moving in any direction. We don't know what's going to happen. There's reluctance to invest because the funds aren't coming in from the BCCI," he rues.
Moving on, you wonder what went wrong with Rathour's career, which was limited to just six Tests and seven ODIs in the 90s. "Who knows? As a coach, now I think that if I'd known what I do know now, that would've made difference. My foot used to go across, my head used to fall (while playing the ball), but there was no one to coach us about these technical things. No one told me that this needs to be corrected, otherwise I'd have a problem against the moving ball. If I analyze it, I can out it on two three difference things – one, a bit of luck, in the sense that I only played on overseas tours. South Africa and England present two of the tough conditions for an opener, but then, Rahul (Dravid) also started there, and did extremely well. So that's just an excuse," he sums up, before opening up further.
"There were a few technical flaws, but then, many cricketers played a lot with many technical problems. What really went wrong, if I put my finger on it, is that at that level, you can't have self-doubts. You need to be sure, even if you have faults. Or, try to do something about those flaws. I think I got caught in between. I knew I had a few issues, which brought in lots of self-doubts, but then I wasn't willing to correct them, because a section of people kept telling me that this is how you played your cricket, why should you change it. However, I could see that those flays are making me get out in certain way again and again. After I was dropped, I became a better player, but I couldn't escape a stigma around me that I wasn't good enough for that level. However, I don't blame anyone or anything, but myself for what happened."
It's in his role as the director of cricket here that Rathour seems to have found his calling. "Selecting an Indian team is a prestigious job, but I enjoyed coaching more. There's not much to do in selection, but to just pick teams. As a director (cricket), I'm making much more impact. Initially, I wanted to be a coach, but Anurag insisted that I come out with systems, because unless we have programmes and infrastructure, things won't work. There was no point in working on just 15 players, he felt. This role is more exciting, because you are influencing more cricketers than just the 15 who're playing. There's more scope to do work," he says.
He recommends that the Indian team use the CoE both before tours and during the off-season. "These will be the closest to the English conditions you can get in India. This is a high-altitude place. Science proves that if you train here, it's a lot easier when you go to the plains. It's a great place for off-season camps too. There are so many activities that you can do-ding treks, climbing mountains, this is all recommended, rather than just doing gym," he says. "When they were here last year (during the first ODI against Sri Lanka), the Indian team loved these facilities. There was a bit of talk that those going for the Tests in South Africa could train here, but for some reason, it couldn't work out," he informs.
Source : timesofindia