NEW DELHI: Be it former India captain Sourav Ganguly or the current Indian cricket captain Virat Kohli, their Rahuls have done wonders whenever the team needed them. Rahul Dravid, the Indian Test batting stalwart, not just frustrated world-class pace attacks but also guarded the three sticks for a long time. Now, Team India has KL Rahul who has been phenomenal with his new dual role – that of batsman and wicket-keeper.
In the absence of first choice wicket-keeper in the limited overs formats, Rishabh Pant, who suffered a concussion during the first ODI against Australia in Mumbai earlier this year, KL Rahul was handed the wicket-keeping gloves. And, the Karnataka lad grabbed the opportunity with both hands.
In the three-match ODI series against Australia, Rahul scored 146 runs at an average of 48.66, including one fifty. He signed off the series with 12 boundaries and three sixes under his belt. In the second ODI, he inflicted one stumping and took two catches after Pant was concussed and didn't take the field.
Rahul was one again given the full-time wicketkeeping responsibility in the limited overs (T20Is and ODIs) series against New Zealand.
In the five-match T20I series against Kiwis, Rahul continued his rich vein of form and finished the series as the highest run-getter – 224 runs in 5 matches at an average of 56, including two half-centuries.
Continuing his sublime touch with the willow and good glovework behind the stumps. The 27 year old scored 204 runs in three ODIs against New Zealand. He smashed one century and a fifty at an astonishing average of 100, including 12 fours and 8 sixes.
In ODI cricket, Rahul seems to have made the number 5 spot his own.
So what's the secret behind Rahul 2.0?
His childhood coach Samuel Jayaj, who started coaching Rahul when he was 8, credits skipper Virat Kohli and South Africa legend AB de Villiers for his transformation.
"He (KL Rahul) spoke with a number of cricketers. He spoke with AB de Villiers and Virat Kohli. Virat spoke with him and motivated him. Apart from ABD and Virat, some more former cricketers spoke with him. But I would give the credit to ABD and Virat. ABD understands him better because he is also a wicketkeeper-batsman. Virat showed confidence in him. Virat knew how talented Rahul is. Watch KL's stance closely, it is very very balanced. He looks calm before the ball reaches him. That's one of the changes he has brought into his game," Jayaraj told Timesofindia.com in an exclusive interview.
KL Rahul – a born wicket-keeper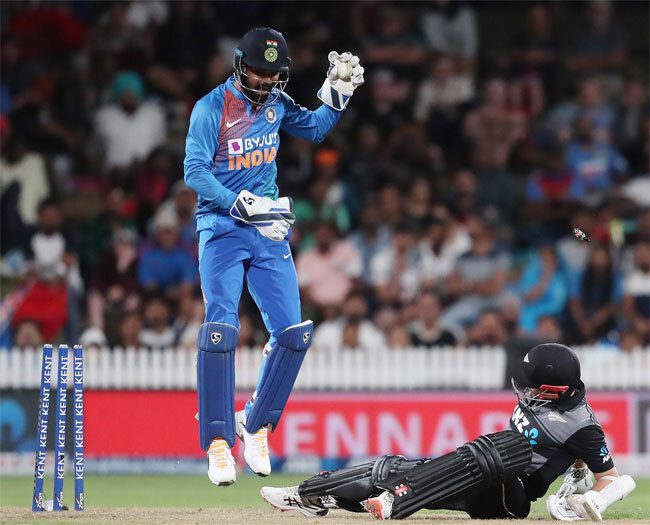 (AFP photo)
One criticism that young Rishabh Pant has faced is his erratic wicket-keeping skills. Rahul's ability to keep well, while being solid with the bat has solved a big problem for the Indian team management.
"He was always a wicket-keeper. Wicketkeeping for India has come as a blessing in disguise for him. As a wicketkeeper you have to keep vigil on all 300 deliveries behind the wickets. Wicketkeeping has helped him in his batting," Jayaraj said.
"When he was a kid, I used to ask him to keep the wickets. Wicketkeeping helps you with concentration. You only watch the ball and then move your hands and feet accordingly. That's how Rahul has become a good batsman," the coach said.
Hungry for a comeback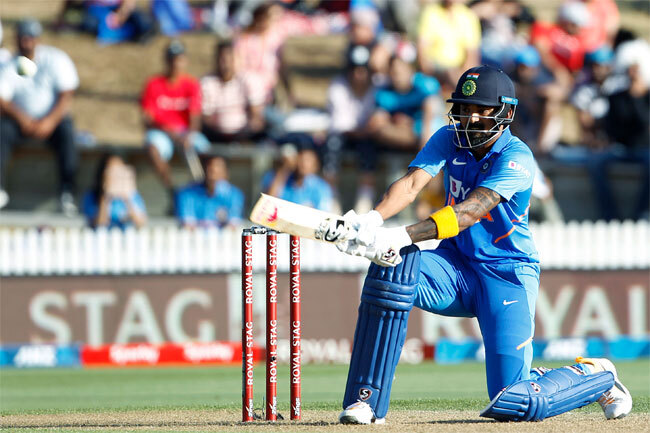 (ANI photo)
Be it his form or the controversy after his appearance with Hardik Pandya on a popular chat show, Rahul was down but not out, He was adamant about making a mark once again in the international fold.
"He worked very hard and all that is paying off right now. His basics and techniques have been strong. He wanted to play wherever his team required and he worked for it. I have seen him practicing day and night. He prepared himself for every situation. By situation I want to say how to play in the first 10 overs of a match and the last 5 overs of the match. In the last 10 months, he worked very hard on some of the shot selections. He got the break because of his poor form and he made good use of that break. I would say that happened for good. That's Rahul's second version, I mean it's Rahul 2.0 (that is) in front of us," Jayaraj told TimesofIndia.com.
"Not just batting, he also started working on his wicketkeeping as well. He kept the wickets for Karnataka in the Syed Mushtaq Ali Trophy in the knock-out stages and that experience again helped him on the international stage. He didn't expect the wicketkeeping challenge but he was ready. When the opportunity came, he grabbed it with both hands. He had set a goal and he was hungry and determined to achieve it," the Mangalore based Jayaraj said.
A man for any position
With Rohit Sharma and Shikhar Dhawan opening the innings, skipper Kohli coming in at No. 3 and Shreyas Iyer at No. 4 in the ODI series against Australia, Rahul was asked to bat at No. 5 in the second ODI in Rajkot. The Karnataka lad was adjudged Player of the Match for his magnificent 80 off 52 balls.
In the first ODI vs Australia he had batted at number three and scored 47.
In the third ODI in Bengaluru, Rahul opened with Rohit Sharma.
In the three-match ODI series against New Zealand, Rahul came to bat at No. 5 and scored 88 not out in the first ODI and then a brilliant 112 in the third ODI.
In the 5 match T20 series vs New Zealand, Rahul opened the innings.
"We were in constant touch. He said he is ready to bat at any position for India. I told him batting positions are just numbers – 1,2,3,4,5. I told him go and enjoy your batting wherever you get the chance," the coach said.
"You can be a good cricketer with time but there are some players who are born with good techniques. Rahul is one of them. He is really blessed. I am from an old school. I have watched Sunuil Gavaskar sir and GRV sir (Gundappa Viswanath) play. They were gods of techniques. That's what I taught Rahul. I told him if you have sound basics and techniques, you can change your game at any point of time," the coach added.
"After the series he called and said, coach, I am enjoying my batting. I laughed and said, enjoy kid, you have to go a long way. You are the best," Jayaraj signed off.
Source : timesofindia