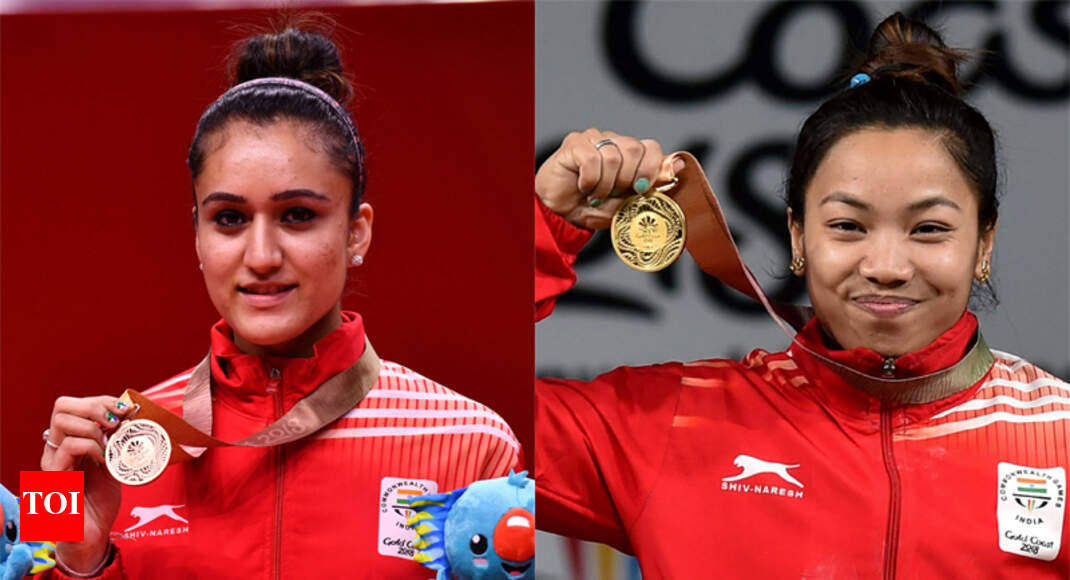 GOLD COAST: The XXI Commonwealth Games was an aberration for India in the sense that the hockey players, both men and women, returned empty handed after having promised so much. With the spotlight away from them, the focus shifted to the likes of paddler Manika Batra from Delhi, javelin thrower Neeraj Chopra from Haryana and weightlifter Mirabai Chanu, who all led from the front to ensure that India's national anthem was played 26 times, across seven venues, from the Belmont Shooting range in Brisbane to the Oxenford studios which hosted table tennis, squash and boxing.
ALSO READ: India's top stars in each discipline at CWG

The rarity of his achievement ensures that the 'best Indian male athlete award' of the Games should go to javelin throw champion Neeraj Chopra. On his way to gold, Chopra silenced the home crowd, which was rooting for veteran Australian Hamish Peacock. Competing in the hostile, packed cauldron of the Carrara Stadium would have been a tough initiation for Chopra, who proved he was made of sterner stuff, coming up with a series of massive throws that took the gold away from the hosts.
The same honour in the women's section should go to another youngster table tennis champion, Manika. No one, not even her teammates, expected such a stunning show from the 22-year-old but the Delhi girl was in her own zone, beating higher-ranked rivals from Singapore twice during the course of the Games.
Seema Punia was expected to win the silver and she did just that, but no one thought Jinson Johnson would trouble the Africans in the men's 1500m final. Johnson ran the race of his life to better the national record set by Bahadur Prasad way back in 1995. "For me, this was the best I could manage but for many others in the field, including world and Olympic medallists, it was a winning race. So they just had to alter the pace according to the competition whereas I had to give my personal best to be with them," Johnson said.
Punia, ever a companion of controversy — the latest was her trip to Russia to train ahead of the Games — asked why the media should be concerned with her training venues. "I gave you the medal, what more you want," she countered.
Shuttlers Saina Nehwal and Srikanth Kidambi are already world beaters and so their role in India winning the team medal was more less expected, though Srikanth, the new world No. 1, failed to assert his supremacy in the singles final.
In boxing, Mary Kom had little challenge and this was one of her easiest climbs to the top of the podium. Vikas Krishan, who was at pains to explain his pressure to win, added one more medal that will now sit alongside his Asian Games gold, a rare combo.
India's young shooters stole the limelight, setting the range on fire, but few veterans stood their ground and took the gold. Heena Sidhu, after losing to Manu Bhaker in the 10m, took the 25m gold while Tejaswini, the 2010 World Champion, won a gold and a silver.
The weightlifters won a bag full of medals but the tone for the golden run was set by Mirabai Chanu, who set a new Games record in women's 48kg. The celebrated wrestlers were not to be left behind and powered by Sushil Kumar and Vinesh Phogat they collected a total of 12 medals, including five gold. Source : timesofindia