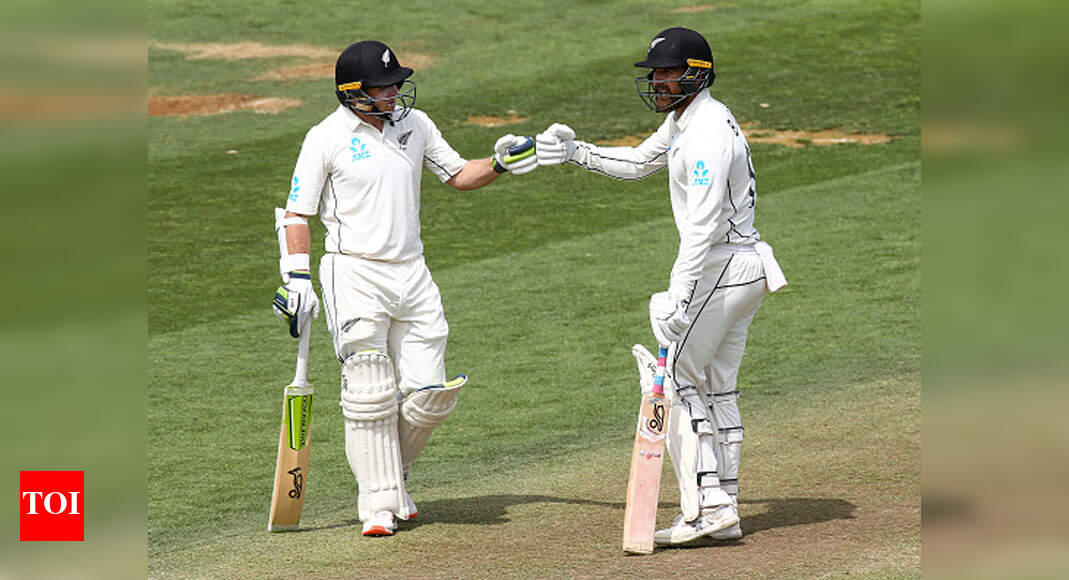 Kane Williamson, New Zealand captain: "Outstanding feeling. Fairly sporting surfaces in both Tests. Bowlers had to put it in the right areas, but this pitch played well on all the days, even though history suggests it flattens out. I don't think the end result shows how tight that match was. We saw how many times the ball beat the bat. Jamieson's a very exciting talent, and contributed incredibly well with both bat and ball in both games. He's tall and gets bounce which is very helpful in these conditions. Great progress for him. The guys had to be disciplined, and the wicket was doing enough, but the fast outfields did allow runs, and it was important to hang in there. A few heavy learning curves, a few good bits, and the two games here have been opportunities to take something from it."
Virat Kohli, India captain: "I think it was a matter of not having enough intent in the first game. We played well in the first innings here with the bat. It was a combination of us not having the right kind of execution and New Zealand playing well. Batsmen didn't do enough for the bowlers to attack. It's disappointing as a side when the batsmen don't back up the effort of the bowlers. We need to go back, understand what went wrong and move forward. We are not a side that thinks about the result of the toss. We are not going to take excuses from this tour, just the learning. In the ODIs it was good to see the youngsters stepping up with Rohit not being available and me not getting runs. We need to accept we were not good enough, take it on the chin and move on."
Kyle Jamieson, Player of the Match: "It's been pretty surreal couple of weeks, just to be part of the group and win a couple of matches feels good. Pitch conditions obviously help and trying to find the fuller length and making decisions more often about the length and sometimes natural variations take over. It's certainly time that I work on a lot on my batting, especially batting lower down the order and in both tests the partnerships down the order have made a difference. Having had a small taste of Test cricket, it's important to work on things and come back better."
That's Game, Set & Match New Zealand. A second consecutive hammering for India, who suffer back-to-back series whitewash on the tour after getting blanked in the ODIs (3-0). A complete batting failure for Virat Kohli & Co, who could score more than 200 just once in four innings across the two Tests and had no answer to the Kiwi duo of Tim Southee and Trent Boult. Also, it's the first series defeat for India in the World Test Championships. They don't play any Tests until November this year, which will give the second-placed Australia to catch up with India's 360 points.
New Zealand sweep India 2-0! It's a seven-wicket victory for the @BLACKCAPS and they take all 120 World Test Cham… https://t.co/cGbSTaKmg4

— ICC (@ICC) 1583117270000
New Zealand beat India by seven wickets to sweep 2-match Test series 2-0

There it is! Henry Nicholls hits the winning runs on his home ground to complete a 7 wicket win at Hagley Oval. Ros… https://t.co/fEdtFTuiul

— BLACKCAPS (@BLACKCAPS) 1583117139000
There it is! Henry Nicholls does it for New Zealand with a comfortable single in the second session on Day 3. New Zealand register 7-wicket win in the second Test to sweep series 2-0.
33.4 overs: FOUR! Ross Taylor pulls and does that in style. Short from Umesh Yadav and Taylor was up for it. Pulls it in the square-leg region to collect four runs. New Zealand now just 7 runs away from 2-0 series sweep. NZ 125/3
32.5 overs: OUT! Another cracker of a delivery from Jasprit Bumrah. Tom Blundell's off stump goes for a toss. What a delivery that was from Bumrah. India still not looking to give up easily. Bumrah gets his second wicket as Blundell falls for 55. NZ 121/3, need 11 more to win.
30.6 overs: OUT! What a beauty! An absolute ripper from Jasprit Bumrah. The delivery rises awkwardly and gets the glove of Williamson. Ajinkya Rahane at gully completes a simple catch. NZ 112/2, need 20 more for victory.
27.6 overs: OUT! Tom Latham falls shortly after his fifty. Tries to pull Umesh Yadav but only manages to glove it. Rishabh Pant takes a good catch behind the stumps, running to his right. Latham walks back for 52 as India get a consolation wicket. 100+ run opening stand between Latham and Tom Blundell comes to an end. Kiwis 29 runs away from victory. NZ 103/1
NEW ZEALAND SECOND INNINGS (Target: 132)
Latham brings up his second half-century of the match and 18th of his career. Also New Zealand's 100 is up – 103/1 in 27 overs.

End of 26th over: New Zealand 98/0. Both Latham (47*) and Blundell (43*) approaching well-deserved fifties.
End of 23rd over: New Zealand in a hurry to go home now. Blundell (38*) deposits Jadeja for a six straight over his head. NZ 89/0, need 43 more to win.
End of 21st over: First over of spin from Jadeja ends with eight runs off it. NZ 82/0, need 50 more to win.
End of 19th over: Back-to-back boundaries by Latham (34) against Umesh Yadav, who has been the least impressive of Indian pacers on show. NZ 69/0, need 63 more to win.
Update on Shami: He has suffered a ball-impact injury while batting and is receiving treatment. Currently off the field.
End of 16th over: New Zealand's fifty comes up in the first over after lunch with a straight-driven four by Latham. NZ 51/0 in 15.3 overs.
End of 15th over: That's lunch on day three. NZ 46/0, need 86 more to win. Latham batting on 16 and Blundell on 23.
End of 14th over: New Zealand openers in no hurry whatsoever with plenty of time on hand to score 132. NZ currently 43/0, just 89 runs away from the winning target.
End of 11th over: New Zealand need exactly 100 more runs to win as Blundell (11*) and Latham (15*) take the total to 32/0.
End of 9th over: A probing over from Bumrah, where he had Latham (15*) and Blundell (10*) guessing almost every ball, delivering from around the wicket. NZ 26/0.
End of 5th over: Both Latham (6*) and Blundell (9*) have begun confidently and without much trouble. NZ 15/0, need 117 runs more to win.
End of 2nd over: New Zealand, chasing 132 to win, are 5/0. Latham 4*, Blundell 1*.
India begin their defence of 131 runs with Jasprit Bumrah. Mohammed Shami not on the ground currently, substituted by Shubman Gill.
India SECOND INNINGS (124 all out)
ALL OUT! Bumrah (4) run out after a mix-up. India bowled out for 124 in 46 overs in their second innings on Day 3. New Zealand need 132 to win the match. (Boult 4/28, Southee 3/36)
India's second innings ends on 124. New Zealand need 132 runs to win the 2nd Test at Christchurch! #TeamIndia Det… https://t.co/2YtiW2hTkA

— BCCI (@BCCI) 1583104902000
End of 45th over: India's last pair of Jadeja (10*) and Bumrah (4*) adding some precious runs. India 118/9, lead by 125 runs.
42.4 Overs: WICKET! Southee strikes again as Shami (5) picks Blundell in the deep for an easy catch. India 108/9, lead by 115 runs.
End of 42nd over: Jadeja (3*) and Shami (4*) facing the Kiwi music now, as the visitors strengthen their stranglehold on the game. India 106/8, lead by 113.
39.3 overs: Another wicket! India's woes deepen as Pant (4) falls as well, caught by Watling. Boult takes his fourth wicket. India 97/8, lead by 104.
38.4 overs: OUT! Vihari dismissed, caught by wicketkeeper Watling while trying to leg-glance Southee. India 97/7, lead by 104.
End of 37th overs: Three runs off the first over of the third morning. India 93/6.
4 pm: The players are out on the field. Tim Southee to begin for New Zealand with Rishabh Pant (1*) on strike.
First news: It's slightly overcast to begin with but thankfully no rain yet.
Day 3 at the Hagley Oval with overcast conditions. #NZvIND https://t.co/uPSjH62IrQ

— BCCI (@BCCI) 1583097109000
3:35 am: Welcome once again to Timesofindia.com's live cricket coverage and if you are joining us from India, a very good morning as well to you. It's day three of the second and final Test between India and New Zealand at Christchurch.
India's top-order frittered away a golden chance with another shoddy batting performance as New Zealand regained complete control by stumps on day two.
Mohammed Shami (4/81 in 23.1 overs) and Jasprit Bumrah (3/62 in 22 overs) were brilliant in their execution, dismissing New Zealand for 235. However, India's top-order failed miserably once again in the second innings as New Zealand bounced back, reducing India to 90/6.
India are now effectively 97 runs ahead with only four wickets in hand and it will take a miraculous effort to avert another series whitewash after the ODIs.
India had Hanuma Vihari and Rishabh Pant batting on 5 and 1, respectively, when stumps were drawn on day two at the Hagley Oval. Source : timesofindia